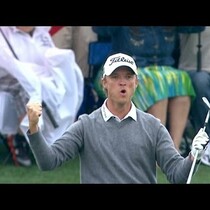 Posted April 7th, 2014 @ 10:44am
Matt Jones didn't really have much of a chance at the Houston Open... he was six shots back starting yesterday, but closed nicely and, when leader Matt Kuchar bogeyed the final hole, made a monster birdie putt to tie. Still most fans and commentators would have given the edge to Kuchar, but golf is a funny game.
Now, he heads to Augusta for the Masters and I'm sure no one will give him a chance again. I'm one of them. With no Tiger, alot of eyes will be on Phil Mickelson, but you have to like the way Kuchar is hitting the ball.
More from News Radio 610 WTVN