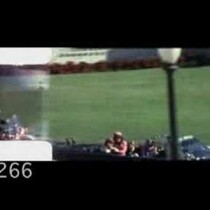 Posted November 22nd, 2013 @ 4:56am
I wasn't born when President Kennedy was assassinated, but I know it had huge impact on the country. I can see it in my mom and dad's face when people talk about that time in our country's history. Plus, my dad is an Ian Fleming fan, I think in large part because of the president. I know fashion at that time was largely driven by the first couple and of course, the conspiracy theories. This may be the time in history when conspiracy theorists really gained a foothold in popular culture.
So here's where we are today... the 50th anniversary. Lots of the 55+ set will remember and reminisce today. Others will delve into the theories of who besides Lee harvey Oswald could have done such a thing. One young reporter even had a chance encounter with Oswald right after he had pulled the trigger. The CIA agent who jumped on the limo right after the shots rang out recalls his day. Some may feel this day in history isn't relevant any more, but the Kennedy's influence is still felt...
More from News Radio 610 WTVN