President Trump and First Lady Melania Trump met in private with former President George W. Bush and his wife Laura yesterday (December 4th), as members of the public continued to wait on long lines to pay their respects to Bush's father, former President George H.W. Bush, as he lay in state in the Capitol Rotunda following his death last Friday (November 30th) at age 94. The Trumps visited with the Bushes at the Blair House presidential guesthouse, where they are staying, after Melania Trump had earlier in the day given former first lady Laura Bush a tour of holiday decorations at the White House, which Mrs. Bush called on Instagram a "sweet visit during this somber week."
The Bushes later joined about a dozen other members of their family, including daughters Jenna and Barbara, brother and former Florida Governor Jeb Bush and others in making an unexpected visit to the Rotunda. After spending a few moments at Bush's casket, they shook hands and spoke with people lined up to honor the late president. Among other visitors to the Rotunda yesterday was former Senator Bob Dole, who, like Bush, fought in World War Two and was a Republican Party leader, and who unsuccessfully ran against Bush in 1988 for the Republican presidential nomination. The 95-year-old was helped out of his wheelchair and saluted Bush with left hand, his right arm having been disabled when he was shot during the war. Also there yesterday was Bush's service dog Sully, who arrived with people who came to commemorate Bush's signing of the Americans with Disabilities Act in 1990.
Bush is lying in state until this morning, after which his casket will be taken to Washington National Cathedral for a funeral service at 11 a.m. ET. After that, Bush remains will be returned to Houston to lie in repose at St. Martin's Episcopal Church before a private funeral service and burial on Thursday, when he will be laid to rest at his presidential library at Texas A&M University alongside his wife, Barbara Bush, who died in April, and their daughter Robin, who died of leukemia at age three in 1953.
Bush will be eulogized at the National Cathedral today by his son, former President George W. Bush, former Canadian Prime Minister

Brian Mulroney, former Senator Alan Simpson,

who became a close friend to Bush, and presidential historian Jon Meacham, who was his biographer. Trump, who will be at the funeral, will not be speaking. All living presidents are expected to attend
Trump has ordered the federal government closed Wednesday for a national day of mourning. The U.S. Postal Service announced it will suspend regular mail deliveries and retail services, and major U.S. stock markets will also be closed.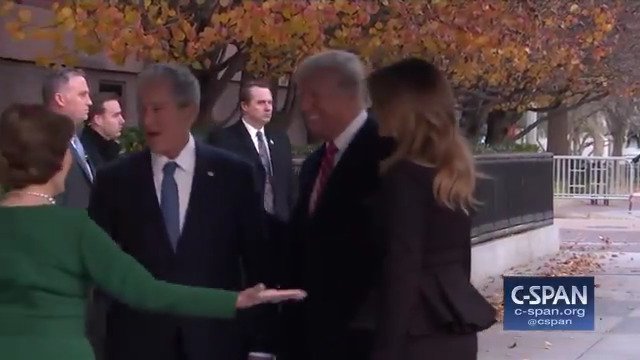 CSPAN

✔

@cspan

President Trump and First Lady Melania Trump are greeted by President George W. Bush and Laura Bush at Blair House.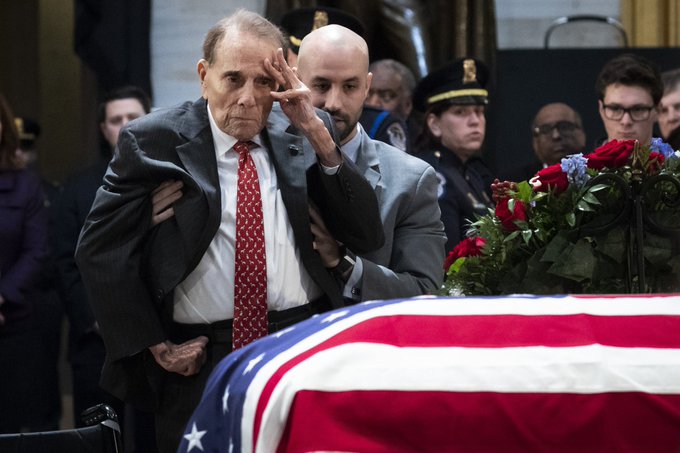 NBC News

✔

@NBCNews

Replying to @NBCNews

Former Sen. Bob Dole stands up and salutes the casket of former President George H.W. Bush as he lies in state at the U.S. Capitol.: Drew Angerer/Getty Images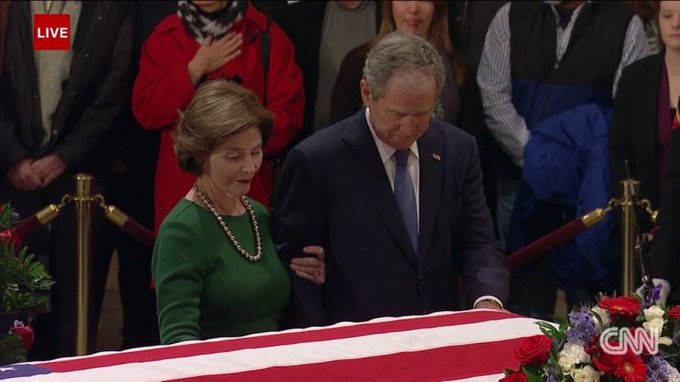 CNN

✔

@CNN

Former President George W. Bush and former first lady Laura Bush paid their respects to George H.W. Bush, who is lying in state in the Capitol Rotunda https://cnn.it/2RuDu1M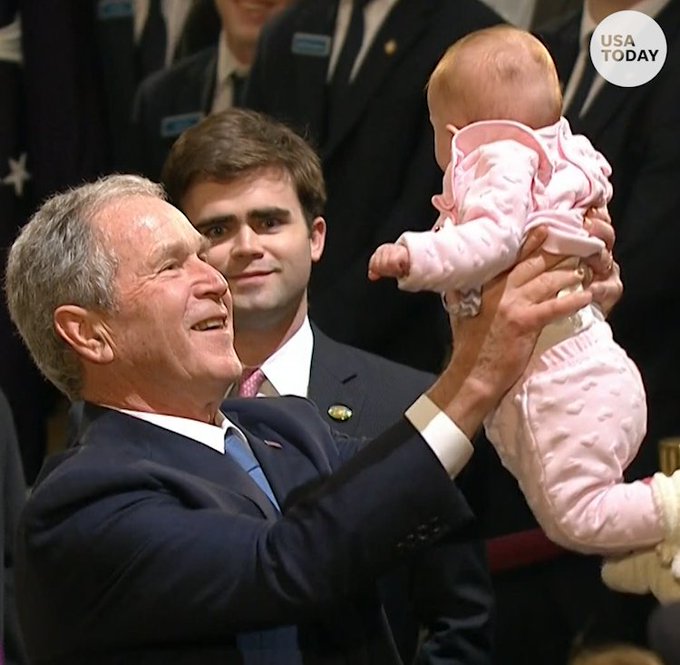 USA TODAY Video

✔

@usatodayvideo

In a touching moment, former President George W. Bush personally thanked members of the public who were standing in line to pay respects to his father, George H.W. Bush at the Capitol rotunda. https://bit.ly/2KTjOlG