Former President George H.W. Bush is lying in state at the Capitol Rotunda after a solemn ceremony was held there yesterday (December 3rd) as his body arrived from Houston, following his death Friday (November 30th) at age 94. Dignitaries from across the political spectrum attended to honor the nation's 41st president, whose casket is resting on the Lincoln Catafalque, first used for Abraham Lincoln's funeral. Vice President Mike Pence, Republican Senate Majority Leader Mitch McConnell and Republican House Speaker Paul Ryan spoke at the ceremony, and Senate Minority Leader Chuck Schumer and House Minority Leader Nancy Pelosi placed wreaths before the Rotunda was opened to the public. President Trump didn't attend the ceremony, but he and First Lady Melania Trump came in the evening to pay their respects, during which time Trump saluted the casket. Bush will lie in state in the Capitol for public viewing until Wednesday morning, with a funeral service to be held at Washington National Cathedral later Wednesday. His body will return to Houston for a private funeral service and burial on Thursday, when he will be laid to rest at his presidential library at Texas A&M University alongside his wife, Barbara Bush, who died in April, and their daughter Robin, who died of leukemia at age three in 1953.
Bush will be eulogized at the National Cathedral Wednesday by his son, former President George W. Bush, former Canadian Prime Minister

Brian Mulroney, former Senator Alan Simpson,

who became a close friend to Bush, and presidential historian Jon Meacham, who was his biographer. Trump, who will be at the funeral, will not be speaking. All living presidents are expected to attend
Trump has ordered the federal government closed Wednesday for a national day of mourning. The U.S. Postal Service announced it will suspend regular mail deliveries and retail services, and major U.S. stock markets will also be closed.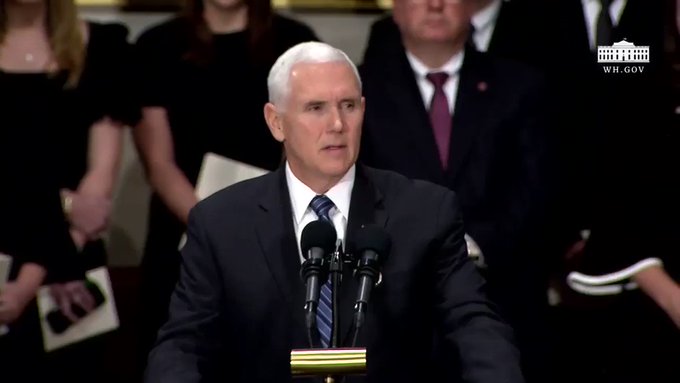 Vice President Mike Pence

✔

@VP

While he was known as the quiet man, it was not for lack of nerve or daring. For in all of his 94 years, President Bush never lost his love of adventure and never failed to answer the call to serve his country. #CAVU #Remembering41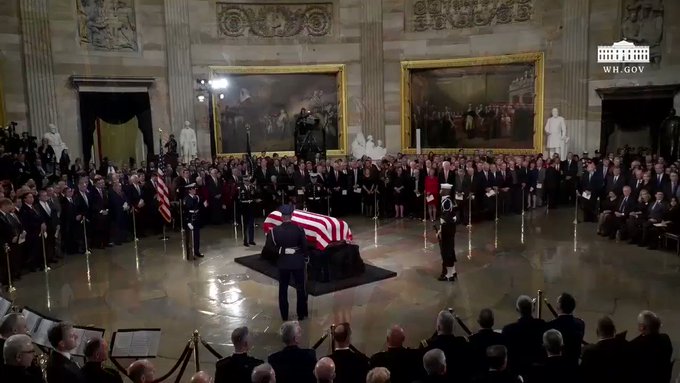 Vice President Mike Pence

✔

@VP

When President George HW Bush left office, he left America & the world more peaceful, prosperous & secure. He was a great leader who made a great difference in the life of this Nation. But he also was a good man who was devoted to his wife, his family & his friends.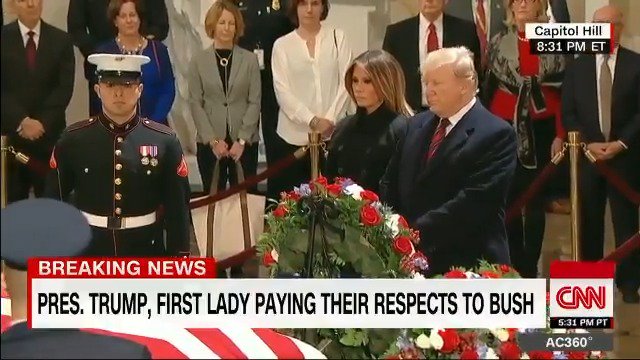 CNN

✔

@CNN

President Trump and first lady Melania Trump pay their respects to former President George H.W. Bush in the US Capitol Rotunda https://cnn.it/2EbCfBG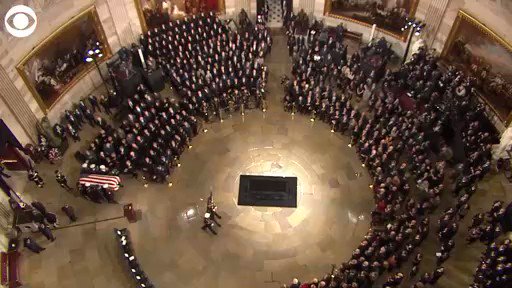 KDKA

✔

@KDKA

Former President George H.W. Bush is lying in state in the Capitol Rotunda. Mr. Bush's family, members of Congress and Vice President Mike Pence attended a service for the 41st president of the United States. Here's a look at the ceremony.